'Ambitious' Blueprint to launch a Co-operative Decade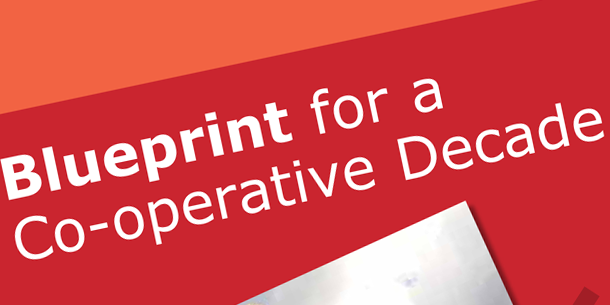 The International Co-operative Alliance has released a draft version of the Blueprint for a Co-operative Decade, which is set to be discussed at the Extraordinary General Assembly in Manchester on 31 October.
Also known as the 2020 Challenge, the plan is to make co-operatives the acknowledged leader in economic, social and environmental sustainability; the model preferred by people; and the fastest growing form of enterprise by 2020.
The Blueprint has been written under the guidance of the Planning Work Group by Cliff Mills and Will Davies, Centre for Mutual and Employee-owned Business, University of Oxford. Members of the planning group are Stéphane Bertrand: Desjardins (Canada); Nelson Kuria: CIC Insurance Group (Kenya); Zhang Wangshu: All China Federation of Supply and Marketing Co-operatives (China); Mark Craig: The Co-operative Group (UK); and Dame Pauline Green: President International Co-operative Alliance.
The ICA adds that it "make no apology for presenting such a challenging Blueprint" and continues by stating that the General Assembly in will be a "pivotal moment". Building on the achievements of the International Year of Co-operatives, the Blueprint will continue to raise the profile of co-operatives in a time of economic crisis and struggle.
The ICA explains in the document: "Rarely has the argument in favour of co-operatives looked stronger than it does in 2012. But unless there is concerted action over the next few years, the moment will be lost. By 2020, we need to be able to look back on 2012 as representing a turning point for the co-operative movement."
The Blueprint is split into five chapters — each looking at the various ways that co-operatives can succeed over the next ten years.
The first two look at the advantages of co-operatives for reasons such as "they give individuals participation through ownership" and "their business model creates greater economic, social and environmental sustainability".
The next section focuses on what it means to be a co-operative today — their defining characteristics or "irreducible core". The final chapters look at what facilitates or inhibits co-operatives, such as legal framework or access to capital.
The document concludes: "Co-operative ideas work; but most people do not know that today. That is why this Blueprint is an ambitious plan to clarify the co-operative message and broadcast it to a world community which currently cannot imagine what it can achieve."
• Click here to view a draft of the Blueprint; and to find out more about the General Assembly.
Latest from the Global News Hub