14 May 2018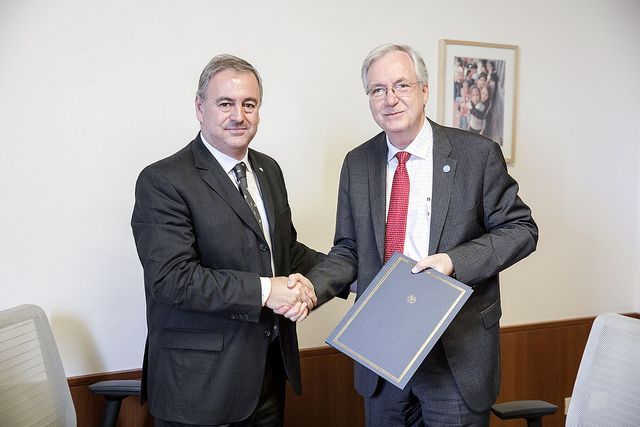 Today, the International Cooperative Alliance has signed a Memorandum of Understanding (MoU) with the Food and Agriculture Organization of the United Nations (FAO) to renew the collaboration seeking to support, enhance and promote the unique contributions of cooperatives to eradicate food insecurity, reduce rural poverty and bring sustainable management of natural resources.
The MoU has been signed by the International Cooperative Alliance President Ariel Guarco and the Deputy Director General of the FAO Daniel Gustafson in Rome, giving a new impetus to their collaboration that formally begun in 2013, and provide opportunities to enhance and deepen their strategic partnership.
Actions will aim at, among other things, increasing the efficiency and effectiveness of cooperatives in implementing the Sustainable Development Goals, particularly Goal 2, improving the legal and policy environments for cooperatives around the world and increasing knowledge and awareness of the role of cooperatives.
The UN Decade of Family Farming (2019-2028) Resolution recalls the need to focus on agricultural cooperatives and farmers' networks in efforts to enhance food security and nutrition. The FAO has called the cooperative movement to work together for its promotion.

About the FAO
FAO is the UN's point agency on efforts to eradicate hunger and make agriculture and food systems more sustainable. Its activities comprise main areas of action: Putting information within reach and supporting the transition to sustainable agriculture; strengthening political will and sharing policy expertise; bolstering public-private collaboration to improve smallholder agriculture; bringing knowledge to the field; supporting countries in preventing and mitigating risks to food security.
Caption: (From Left to Right) Daniel Gustafson, Deputy Director-General Programmes, FAO. Ariel Guarco, President International Co-operative Alliance ©FAO/Giuseppe Carotenuto. Editorial use only. Copyright ©FAO
Related news: