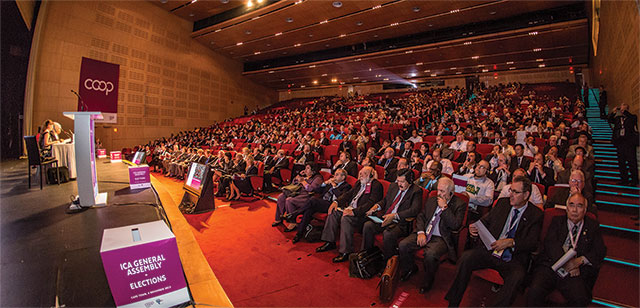 The International Co-operative Alliance is a non-profit international association established in 1895 to advance the co-operative model.
The Alliance is the apex organisation for co-operatives worldwide, representing 307 co-operative federations and organisations across 107 countries (figures of April 2018). The members of the Alliance are national level co-operative federations, individual co-operative organisations and government offices concerned with co-operatives.
One in every six people on the planet are co-operators. Through its membership, the Alliance represents 1,2 billion people from any of the 2.6 million co-operatives worldwide.
The International Co-operative Alliance works with global and regional governments and organisations to
create the legislative environments that allow co-operatives to form and grow
. Fin out more about our global advocacy
here.
Towards the public, the Alliance promotes the importance of the
co-operatives' values-based business model
. The Alliance has made available its global strategy for co-operatives to become the fastest growing form of enterprise by 2020, in the
Blueprint for a Co-operative Decade
.
Yearly, the Alliance publishes the
World Co-operative Monitor
, the index of the world's largest co-operative and mutual enterprises. The Monitor demonstrates the economic impact of co-operative enterprises worldwide. The sixth edition of the World Co-operative Monitor has revealed a
global turnover of 2.1 trillion USD
for the world's top 300 co-operatives. Co-operatives generate partial or full-time employment for at least 280 million individuals worldwide, either in or within the scope of co-operatives, making up almost
10% of the entire employed population
.
Alliance regional offices
Operating from a global office in Brussels, Belgium, the Alliance is organised with four Regional Offices:
Alliance sectoral organisations

The Alliance further has eight Sectoral Organisations:
Banking
Agriculture
Fisheries
Insurance
Health
Housing
Consumer Co-operatives
Industry and Services
Vision and mission