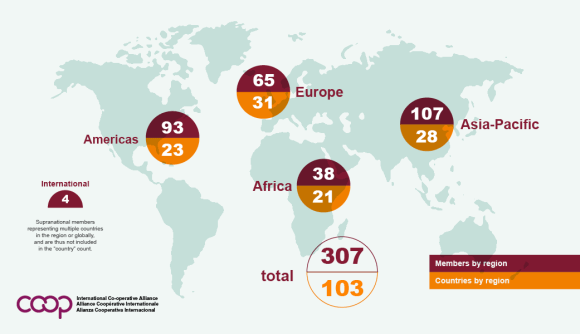 Around 307 organisations from 103 countries are members of the International Cooperative Alliance.
The ICA's members are international and national cooperative organisations from all sectors of the economy, including agriculture, banking, consumer, fisheries, health, housing, insurance, and industry & services.
Why is it important?
We are providing cooperatives with global reach to strengthen your movement locally:
Global networking - meet and share ideas with the largest range of organisations and cooperatives in terms of sectors and size.
Global best practice - improve the performance of your cooperative organization by learning and adopting the latest best practices globally in cooperative governance, funding, marketing, etc. 
Global representation - get the tools to strengthen your own advocacy and be part of the global advocacy of the ICA and its regions and sectors. We ensure issues important to your business sector and the cooperative movement are understood and acted on at a global level with representation at the United Nations, G20, etc.
Global decision-making – ensure that you take part in the global decision-making process regarding the strategy of the international cooperative movement.
Through its' global network, the ICA can help members find the sectoral and thematic expertise they need to support and strengthen cooperatives around the world.
The one subscription fee entitles members to participate in all the structures of the ICA that are relevant for their cooperative or cooperative organisation.
ICA membership in a nutshell
Learn about all of the services that the International Cooperative Alliance offers, the benefits of membership and the various ways to engage, e.g. through our geographic regions, our business sectors, and our thematic committees! When you join the ICA, these various options are available to you at no additional fee.
We will be updating this package quarterly in order to include the latest information on events, publications, and services.
You can download the package in English, Spanish and French.