04 Nov 2015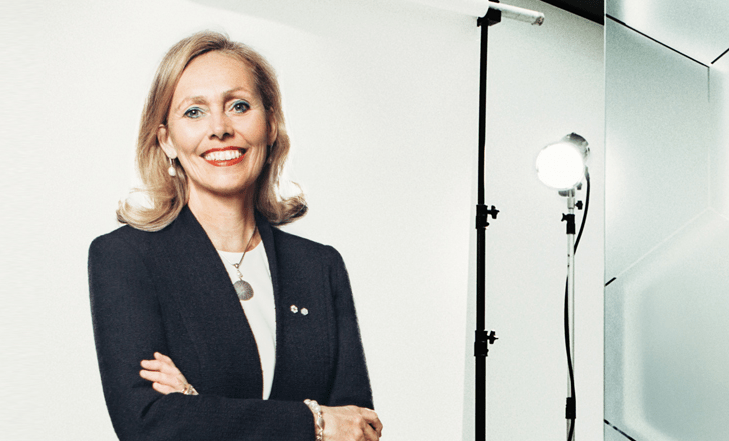 Visit Monique Leroux' candidature website
Monique Leroux is one of the four candidates that joined the race for the International Co-operative Alliance's president elections. A board member of the Alliance, Ms Leroux is also president, chair of the board and chief executive officer of Desjardins Group, a federation of 400 credit unions and numerous subsidiaries serving 7 million members and clients in Canada and operating, through Développement international Desjardins, in more than 30 emerging and developing countries. 
The long relationship between Desjardins and the Alliance goes back to the early days of the group, at the beginning of the 20th century. Alphonse Desjardins, the founder of the credit union movement in Canada became a member of the Alliance in 1904. Another important figure in Desjardins' history, Earl Grey, served as Canada's governor general and was the Alliance's President for a number of years.
"Desjardins started because of the need for people to access credit and safe savings. It was about providing financial inclusion to people," said Ms Leroux. As a people bank, Desjardins has gone from strength to strength and is now among the five strongest financial institutions in the world (Bloomberg ranking)"
In 2008, Monique Leroux was elected as chair of the board of Desjardins Group. "It was a bold move", she says, adding that, as a woman executive, she might not have been elected in a traditional bank, due to the sector's gender bias. Testimony to co-operatives' openness to women contribution and participation was also Ms Leroux's election to the Alliance Board in 2013. 
"One of my motivations for the presidency is to give something back to the movement, and letting the movement and the Alliance share in the collective experience gained at Desjardins and the Canadian  cooperative movement , where co-operatives across different sectors stand out for their vitality and high dynamism" she says. 
It was during Monique Leroux's attendance of the World Economic Forum in Davos, in the year following the financial crisis, that she thought of providing the co-op movement with its very own "Davos". The event that would become known as the International Summit of Co-operatives, was not an end in itself, but aimed to build precious momentum around the UN's International Year of Co-operatives. It has since established itself as a biannual summit that aims to open up the co-operative model's greatest achievements and future potential to a wider audience, gathering a crowd of government and policy decision makers next to co-operators from around the world. "The International Summit of Cooperatives, like the Alliance General Assembly, are important cooperative networking events where best practices, initiatives and ideas to grow and develop our cooperatives businesses can be shared," added Ms Leroux. Further, according to Ms Leroux, it was the strong commitment of Desjardins Group, the Alliance and the Canadian cooperative movement which played a key role in creating the International Summit of Co-operatives in 2012.
Earlier this year, Ms Leroux was selected to represent Canada at the B7 meeting in Germany. "Beyond having the relevant local and national experience, to continue this kind of engagement at the international level, one needs the support of his or her regional and national movement", she emphasises. 
In September 2015, Monique Leroux was also invited to join other leaders for the G7 Forum for Dialogue with Women. The event was organised by German Chancellor Angela Merkel, who invited 62 leaders from 29 countries to Berlin to discuss on how to empower women in terms of entrepreneurship, political participation, and health. Key representatives of the UN and other international bodies participated to the meeting. 
Monique Leroux' programme for the Alliance focuses on three priorities: engagement, leadership and growth. "My first priority is to work together to reinforce member engagement. Essentially, building on the strength of local co-ops, we need a way, within the Alliance, of making regions and sectors work closer together, thinking globally but acting locally. Developing the power of inter-co-operation is thus a key item on Ms Leroux' programme. "We are used to co-operate at the level of national apex organisations in each country, but in a global world we need to push for inter co-operation between sectors and countries," she adds. "Digital technology will help connect local co-ops and national federations through the Alliance and help create momentum around co-operatives' leadership and commitment to get the world's attention."
When it comes to leadership, her second priority, the Alliance must continue its efforts with the international bodies to increase recognition and spread the cooperative model. It must aim to become a key player in developing economic and social public policy and be part of key decision tables. "By promoting our business model, we are also promoting social responsibility and sustainable development principles, which are ingrained in the cooperatives DNA," says Ms Leroux, adding that "cooperatives must be part of the solution to the major economic, social and environmental issues of our time."
This can only be done by reinforcing the growth and solidity of the global cooperative movement, the third key priority of Ms. Leroux's program for the Alliance. "Through its R&D support role, the Alliance must be a leader in the development of new cooperative sectors that offer solutions to today's economic and social issues. According to her vision, the Alliance must be a catalyst for the growth of the cooperative movement and for job creation by, for instance, facilitating multi-sector business partnerships, stimulating and highlighting cooperative entrepreneurship and creating new networking spaces (B2B). 
An early member of the advisory committee of the UN for the 2012 International Year of Co-operatives, Ms Leroux emphasizes that co-operatives also have a key role to play in achieving the UN's post-2015 development agenda.
 "Co-ops across the world know that they have an important role to play in financial inclusion, food security and employment. These will be key topics at the next International Summit of Cooperatives, where we will walk the talk and show how some of the large co-ops work together with smaller and emerging co-ops to increase their impact. Same with financial cooperative groups and insurance mutuals which can make significant contributions by turning to sustainable investing and financing practices."
In terms of education, Ms Leroux thinks it is very important to ensure that the co-operative model is included in the curricula of universities and colleges to get more young people involved and stimulate cooperative entrepreneurship. Desjardins has over 5,000 elected officers. "Member elections are real democracy courses and exercises," says Ms Leroux. "By their very nature, co-ops are truly concerned about education", she said. 
"It's like having a garden with different plants, trees and flowers, says Ms Leroux. The role for the Alliance is to ensure the best conditions to enable this garden to grow, flourish and thrive for the good of humanity", says Ms Leroux.