19 May 2022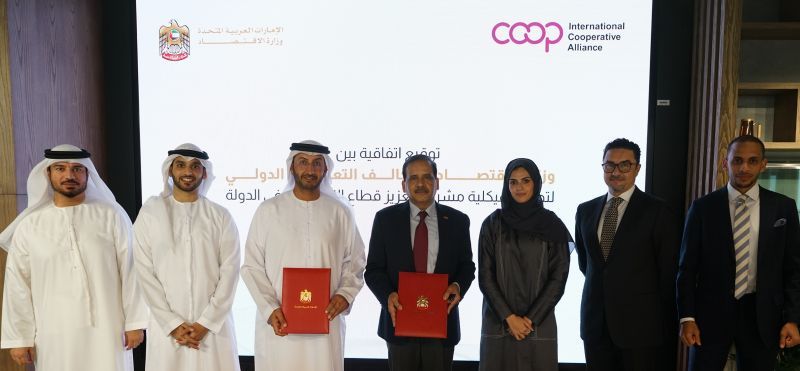 The ICA through its Asia-Pacific Regional Office has signed a cooperation agreement with the Ministry of Economy of the United Arab Emirates.
Aiming to strengthen the country's cooperative sector, the agreement will see the two organisations work together to develop a long-term strategy for cooperative development in the UAE, including updating existing legislation.
The project falls in line with the UAE government's aim to diversify the country's economy. The ministry also sees cooperatives as a means to drive sustainable development.
The ICA-AP will work with the Ministry to identify existing challenges for the country's cooperatives and potential barriers to the sector's growth.
The ministry has set the target of increasing the cooperative sector's contribution to the country's GDP from less than 1% at present to 5% by 2031.
The agreement was signed on 17 May by His Excellency Abdullah Al Saleh, Undersecretary of the Ministry, and Balsubramanian Iyer, Regional Director, International Cooperative Alliance – Asia-Pacific.
Mr Al Saleh said: "The cooperative sector plays a pivotal role in achieving the goals of sustainable economic and social development for the United Arab Emirates, and is an important tributary to the competitiveness and diversification of the national economy. To improve its performance in accordance with the best international practices and enhance its role in the new economic model of the country, the country has achieved regional leadership in developing the cooperative model and providing the environment and policies that stimulate its growth."
UAE has recently allowed the listing and trading of cooperative shares in its financial markets. "We continue our efforts today to complete the development plan for the cooperative sector to take its deserved role as one of the drivers of diversity, sustainability, innovation, high productivity and the transformation towards the future economy in the UAE," he added.
Mr Iyer said: "Cooperatives align well with the UAE Centennial pillars which call for the government to be supportive and future looking, building a diversified economy, promoting values in education, and building a happy and inclusive society. Through our engagement, we will bring in international experiences, and showcase relevant models from different countries. Our approach will be to help promote the cooperative model, increase awareness, help engage youth and women, build capacity and in the process increase visibility and contribution of cooperatives in the UAE."