02 Jul 2021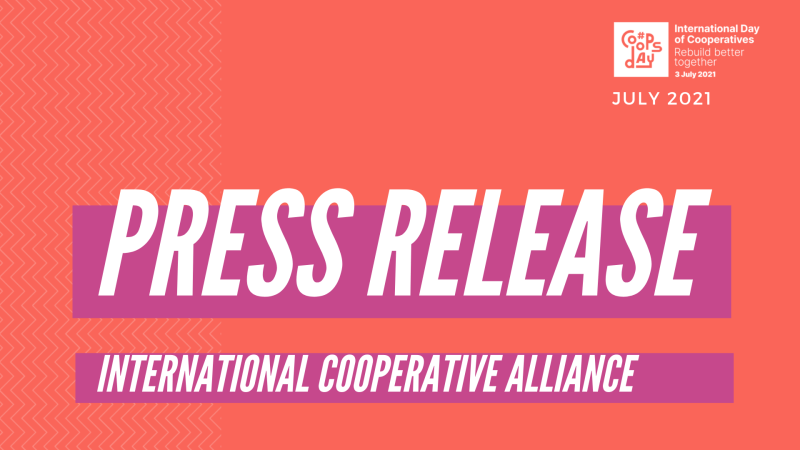 Tomorrow, 3 July, the cooperative movement will celebrate the International Day of Cooperatives (CoopsDay) under the theme "Rebuild Better Together". Throughout the COVID-19 pandemic, the support cooperatives provide for their communities is showing they are uniquely positioned to help economies recover from this crisis. 
"We have all felt the impact of this health, social and economic crisis on a global scale.This crisis draws attention to longstanding inequalities that is making us envision how we can rebuild this world, so that no one is left behind. To emerge better from this crisis, we must cooperate", said Ariel Guarco, President of the International Cooperative Alliance (ICA).
The cooperative movement is made of over 3 million cooperatives with a total membership of approximately 1 billion people worldwide from all sectors and regions. This year's celebrations will put particular emphasis on how cooperative enterprises can lead a recovery that prioritizes people, their communities, and the environment they live in. 
"Our strong cooperative identity is based on unique values and principles - solidarity, equity, social responsibility, concern for community - that are focused on responding to the needs and aspirations of people. In times of crises, this identity has helped rebuild communities that are more resilient", added Guarco.
Today, the ICA is also releasing a preview of an article from the 2021 World Cooperative Monitor. This chapter provides encouraging indications that cooperative actions during the pandemic's recovery phase can usher in an economic model that is more sustainable and inclusive.
An excerpt from the article states:
"Participation and attention to members and a community focus are key points that have guided cooperatives' actions in recent months. These actions could be the pillars for disseminating a business model that embraces the goals promoted by the 2030 Agenda in terms of human rights, fair labour, environmental sustainability, and sustainable growth."
-The World Cooperative Monitor. The full edition of the World Cooperative Monitor, which will be the 10th edition, will be released at the end of 2021 by the International Cooperative Alliance and Euricse.
"Cooperatives' contribution to the recovery followed by their role in strengthening the economy and society can trigger a global shift towards an economy that prioritises people and the planet. Cooperatives need supportive and enabling policy and legal environments to create productive and rewarding workplaces, and narrow wealth, income and environmental inequalities," said Bruno Roelants, Director General of the International Cooperative Alliance (ICA).
For tangible examples of how the global cooperative movement has contributed to rebuilding their communities to have a better future together, please see Facts and Figures: Rebuilding Better Together
Celebrating worldwide cooperation since 1923
The International Day of Cooperatives is an annual celebration of the cooperative movement that first took place in 1923 making this the 99th occurrence. This celebration aims to increase awareness of cooperatives.
In 1992, the UN General Assembly declared the first Saturday of July to be International Cooperatives Day, beginning in 1995 to mark the centenary of the ICA. Since then, The United Nations and the International Cooperative Alliance have been setting the theme for the celebration of the Day under COPAC, the United Nations Committee for the Promotion and Advancement of Cooperatives.
To celebrate this year's International Day of Cooperatives the COPAC is holding two online events focused on how cooperatives can lead a people-centred and environmentally just recovery. You can find more information here
Facts and Figures: Rebuilding Better Together
United Kingdom
The Co-op Economy 2021, compiled by our member Co-operatives UK, reveals that cooperatives were four times less likely to go bankrupt in 2020 than businesses generally, despite the global pandemic. The number of cooperatives is also on the increase across the UK bucking an overall trend of declining business numbers. 
Spain
Throughout the pandemic the Mondragón group was able to look after its employee members, serve communities and meet the increasing demand for personal protective equipment or PPE, manufacturing 60 million masks over six months to help stimulate the national production of PPE for the healthcare sector. To avoid having to lay off workers, they used their internal solidarity funds and temporarily redeployed workers from one cooperative to another  as they did in previous crises. Thanks to a strong group capitalisation effort for years, they are now investing 1.5 billion euros in 3 big industrial projects which will generate 5000 new jobs. Other Spanish cooperatives from different sectors have shown that COVID-19 can be overcome. For example, textile cooperatives changed their production lines to make masks, or education cooperatives keept on teaching, and with the food that remained, they created Social Canteens, without forgetting the people of the cooperatives in residences, and many other examples that we can find at www.coopsday.coop
India 
Agri-cooperative giant IFFCO built four new oxygen plants to help hospitals treat COVID-19. The cooperative's 400 field officers act as 'coronavirus troopers', doing awareness and relief distribution work on the ground. They reached out to the farmers and their communities through WhatsApp and  relief distribution and awareness camps, set up at more than 1,400 locations benefiting 650,000 people in 21 states of India. The campaign will continue until the country is free of COVID-19. More examples from the Asia - Pacific region can be found here
Argentina
While other businesses had to let go workers, Sancor Seguros insurer was able to maintain all of its 3,330 employees, who continued to work remotely. The cooperative created an internal network to maintain collaboration and teamwork, despite the physical distance. Find more examples of how cooperatives from the Americas have been facing COVID-19 in a dedicated dossier produced by our regional organisation Cooperativas de las Americas.
Cameroon
Medical professionals from Santé Assurée Coop introduced relevant prevention measures in medical centres, distributed masks, and soaps, and carried out an awareness-raising campaign to inform the general public about the pandemic. Other examples on how health cooperatives around the world delivered life-saving services during COVID-19 can be found here.
The latest issue of the ICA's Coop Insider newsletter looks at cooperative answers to overcoming COVID-19 challenges. This issue includes a series of case studies on how housing cooperatives benefit their residents, the impact of COVID-19 on youth, consumer cooperatives' concrete cases and the role of cooperative banks in communities during the pandemic.
Cooperators from all around the world have sent us their stories, you can find them on the 2021 CoopsDay map.
For further information contact:
Leire Luengo
Director of Communications International Cooperative Alliance
Tel: + 33 613 36 05 29