28 Jun 2021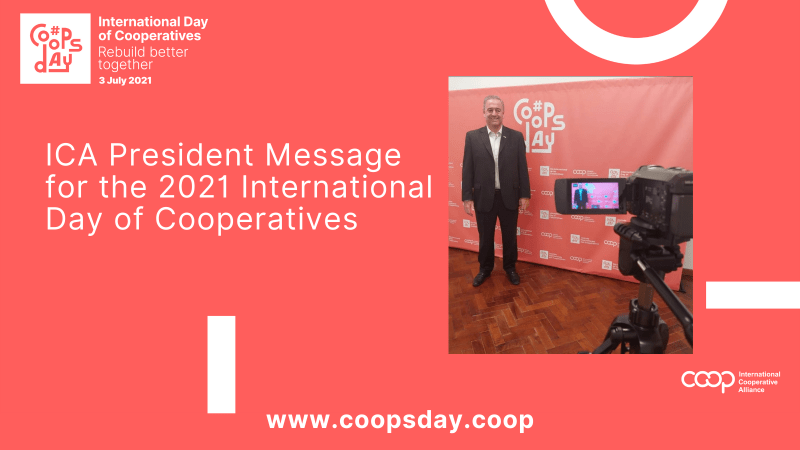 Written transcription of ICA President Ariel Guarco Message for the 2021 International Day of Cooperatives 
Hello cooperative friends from all over the world!
Our day is coming - The International Day of Cooperatives.
This is a very special date, in which more than one billion members of three million cooperatives on all continents, can show our strength.
This year, we want to invite everyone to Rebuild Better Together the economic and social fabric damaged by the pandemic.
We have all felt the impact of this health, social and economic crisis on a global scale.
This crisis draws attention to longstanding inequalities that are making us envision how we can rebuild this world, so that no one is left behind.
To emerge better from this crisis, we must cooperate.
Guided by solidarity, we can all do our part to build a stronger and just future so everyone can live with dignity.
Today, more than ever, an economic model with community leadership focused on the common good is necessary.
The cooperative model is the answer.
For a long time, we have shown that it is possible to produce, consume, save, educate, serve and live together, while also prioritizing the wellbeing of people and the environment.  
We must work together to reach this cooperative paradigm in the horizon. All of us – cooperatives, organizations, and people, must act today to achieve a just recovery in this complex world.
I want to take this moment to recognize cooperatives and their members for the enormous effort and the great difference they have already made.
To sustain work, production, consumption, health, finances, communications, essential services and many other activities that are facing difficulties, Rebuild Better Together is a call to continue putting our cooperative principles into action.
It is a call to continue providing opportunities for young people, women, and the most vulnerable in our society, so they can achieve their hopes and dreams, personally and professionally.
It is a call to continue innovating to meet the new challenges posed by technological advances while putting people and the environment at the center of these developments.
It is a call to continue affirming our commitment to peace, and actions to achieve positive peace, that results from social, economic, and cultural equity among people.
Throughout history, our cooperative movement has faced different global crises.
Some, like the crisis we are living today, have distressed all of humanity.
Our strong cooperative identity is based on unique values and principles that are focused on responding to the needs and aspirations of people. In times of crises, this identity has helped rebuild communities that are more resilient.  
This can be seen in our cooperative experience in each country, region and sector.
For this reason, on this International Day of Cooperatives, let us make our voices heard.
Let's proudly show our identity.
And let's all make the call to Rebuild Better Together.
Happy International Day of Cooperatives.