04 Jul 2017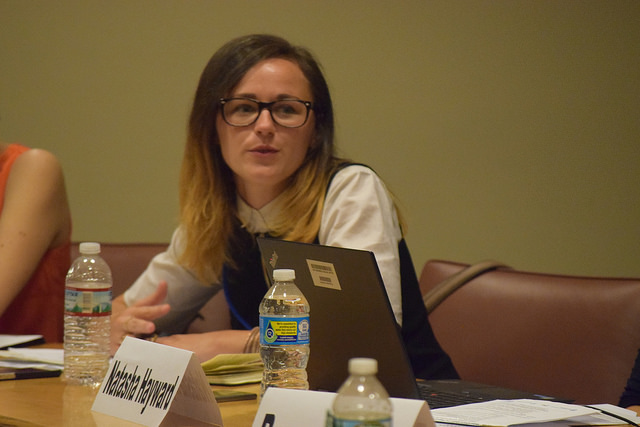 On 12-13 June 2017, the International Co-operative Alliance participated in an Expert Group Meeting at the United Nations in New York to share progress on and further actions for fully implementing Sustainable Development Goal (SDG) 2. SDG 2 outlines the path to zero hunger, improved food security and nutrition, and sustainable agriculture by 2030.
During the first day of the meeting, participants discussed in-depth specific targets of SDG 2. In the session on SDG 2.3 (doubling agricultural productivity and incomes of small-scale food producers), Fran McCrae, policy manager of the Alliance, reminded participants that co-operatives are an important way for producers to strengthen their positions in the value chain through the power of the collective.
On the second day, Ms McCrae was a panellist for the session "Means of implementation: Investment, trade, markets, and finance". She demonstrated how co-operatives drive rural investment and development and improve the access of farmers and producers to markets, inputs, services, and information. She also urged participants to consider co-operatives as partners in achieving SDG 2, governments to improve their legal and regulatory environments for co-operative development, and UN agencies and Member States to invest in co-operatives and co-operative education.
More than 100 experts from the UN, governments, civil society, and the farming community participated in the meeting, which was organised by the Food and Agriculture Organization of the United Nations (FAO), World Food Programme, and the International Fund for Agriculture Development (IFAD).
For more information, please refer to the Expert Group Meeting website (http://www.fao.org/lon/upcoming-schedule/detail/en/c/891657/) and view the Alliance's brief on SDG 2 (http://www.fao.org/fileadmin/templates/lon/2017_HLPF/EGM2/Coops_SDG2_BRIEF.pdf).
Photo: Fran McCrae, policy manager of the Alliance speaking at the event