04 Nov 2022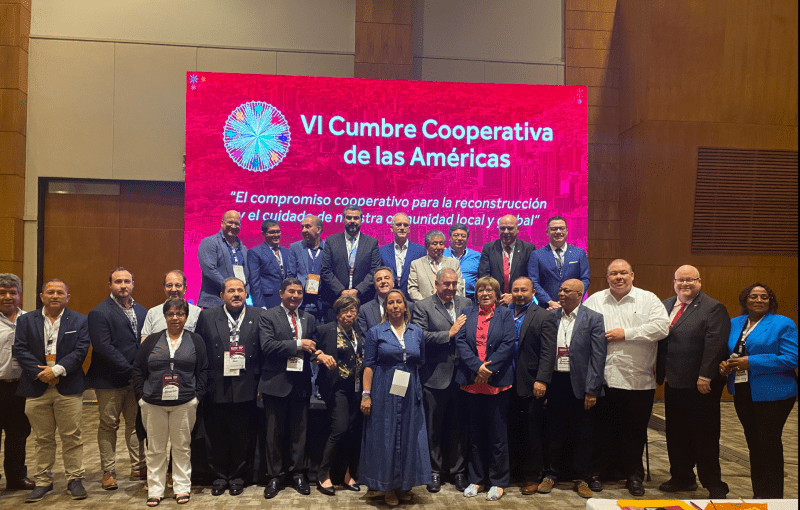 The Sixth Summit of Cooperatives of the Americas brought together over 1,000 delegates to Asunción, Paraguay, to discuss the role of cooperatives in deepening democracy and rebuilding post pandemic.
Held on 24-27 October, the summit featured cooperative leaders, representatives from social and solidarity economy organisations, academics and government officials.
Participants discussed a range of issues, from climate change and sustainability to the cooperative identity and the need to increase the movement's visibility, particularly as a development actor.
"Faced with the global economic crisis, a product of the pandemic and war, cooperatives are strategic in building equality; They are enterprises focused on economic growth and distribution of wealth, they are enterprises that democratise job opportunities and income generation in our communities, and participation regardless of gender and class," said Graciela Fernández Quintas, president of Cooperatives of the Americas, at the opening session of the summit.
Delegates highlighted how cooperatives "have once again shown their enormous capacity for resilience" and argued they should be "strategic allies of governments for social and economic transformation with a strong emphasis on building greater equality and equity, with concrete proposals for changes in the sustainability of production systems, distribution, consumption and financing". 
ICA President, Ariel Guarco opened the Summit.
"Governments and communities are understanding that there is no sustainable development without business models that are capable of taking on the triple economic, social and environmental approach, and that is an opportunity for our movement," he said (read his full address in Spanish here).
The summit concluded with the adoption of a declaration, which highlights the role of Cooperatives of the Americas (ACI-Americas) in working to develop strategies to influence public and intergovernmental policies across the region. The document also urges collaboration with those countries "that still have a weak cooperative union" to support a regional strategy to strengthen cooperative education proposals and actions "that capitalise on the best practices that the movement has been able to build".
The final declaration invites cooperatives "to promote the Sustainable Development Agenda and its specific application in terms of access to environmental information, creation of sustainable food systems and decent work to mitigate the effects of climate change."
The Continental Congress of Cooperative Law was also celebrated in Asunción, capital of Paraguay (27-29 October), under the theme 'The cooperative law and the cooperative identity in the post-pandemic era'.
Read the declaration here (in Spanish).