22 Jun 2020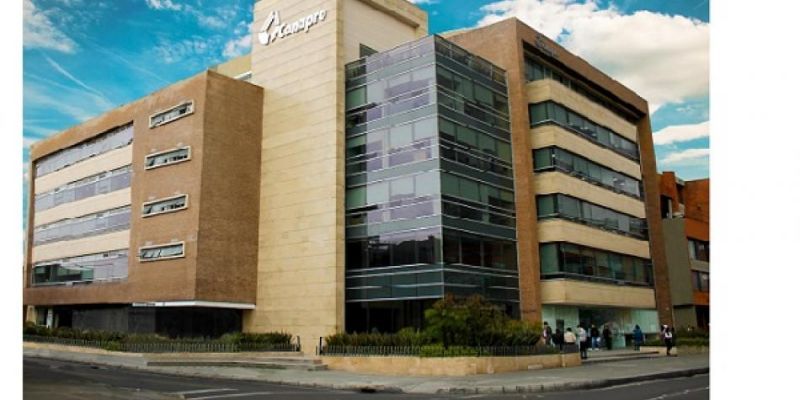 "A forest that moves" is the forestry project that Canapro has been developing for the past 10 years. During this time, 100,000 new trees have been planted through the environmental initiative and, due to the bees, winds, firewalls and other measures, the burns epidemic has been avoided. The investment was 15 billion.
Édinson Rafael Castro Alvarado is the current manager of the National Teacher's Co-operative (Casa Nacional del Profesor): Canapro. This is someone with vision and a commitment to the environment. For a decade, he has supported environmental sustainability with various projects of which the co-operative sector is extremely proud.
In an interview for Colombia Co-operative, Professor Edinson discusses this commitment to help mitigate the effects of climate change around the world. 
C.C: Where does this interest in environmental projects come from?
Edinson Castro: Climate change is a reality and our co-operative nature means we act on issues that are of great importance to humanity. Canapro is a co-operative of educators which already shows commitment to life, and we're convinced that our journey on this planet is about contributing to positive change in our environment, so we're committed to sustainability, which is part of our values.
C.C: Why did you choose the Vichada area to carry out this project?
The Vichada region is very extensive. The high plain is an area with the right conditions for tree planting as we didn't have to adapt the space – there was no need to fell trees to start our project. We also realised the Orinoco river could be used as a route to transport products in the long term, although this has been complicated in the past few years by the relationship with our neighbouring country. We don't want to relinquish this area as we really care about it.
We also believe that this part of the country is worth the effort. The fact is the area has been abandoned by the government and society so we think it's worth considering all its potential to develop for the good of humanity and the country.
C.C: What is the reforestation project? 
E.C.: We have done several things: we have planted acacias, which although it is not a native species, has the distinctive feature of being able to thrive on difficult land, so that's why we chose to plant it. There is currently a shortage of wood from trees, the Colombian industry is mainly fuelled by exports or deforestation, so this project aims to provide an alternative solution to the situation.
It is with pride and joy I can say that over the past 10 years during which we planted 300 hectares, we now have 400, so we've gone from 200,000 trees to 300,000 trees in a decade. That's why we say "the forest is progressing, not just being conserved."
It is important to highlight how generous nature is, because it's not only trees that are growing in the area, it has also become the refuge for hundreds of species that have made the area their habitat. Life definitely manifests itself in the area.
C.C: Tell us about the beekeeping project 
E.C.: We currently have around 600 hives and we believe these creatures are vital to life. I really don't understand human rationale, if we know we rely on these creatures, why do we approve fumigation? With this forward-looking project, we want to market the honey and work together with the community to make it a source of income for them.
C.C: The Canapro school was recently in the news for its clean energy project, tell us about it.
E.C.: We have nearly 108 panels that provide all the power for the institution and there is even a little remaining for public lighting in the sector. So with what we spend, in 15 years we will have recovered the investment of 130 million and we will still have 20 or 25 years of infrastructure use left. Economically it is not profitable, but the message we want to give to students and the wider community is that everything done to protect the environment is worth it. This project is fundamentally educational, and we want to encourage people to take action.
C.C: What other initiatives form part of this great environmental sustainability project? 
E.C.: Well, there are a number of things, we want the industry to get involved, so we think it's important to set up a green or environmentally friendly credit line to reward investment in these projects. 
At our recreational centre in Guaré, we want to set up a clean energy project so that the energy required by the recreational centre and soon the housing too, is provided by solar panels. Every weekend in Guaré, the manager currently invites visitors to look at our recycling and reuse process, where we separate grey waters from black and reuse it to inspire people to be conscientious about looking after water.
We also want the Vichada experience to become a type of Ecotourism, so the community would be involved in the process but it would also be a wonderful opportunity to get to know an exotic part of our country.
Finally, what we want to do is call on society in general to add to these initiatives, the negative effects of climate change are a reality and we all need to take responsibility.
Credit: Revista Colombia Cooperativa - Ascoop