26 May 2023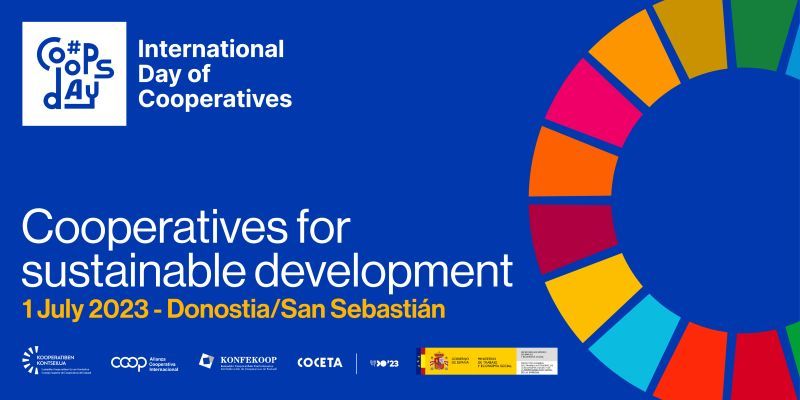 With the slogan Cooperatives for Sustainable Development, more than a billion cooperators worldwide will celebrate their International Day on 1st July; a day that has marked cooperativism for a century. To honour the occasion, we're holding an international conference to show how cooperatives are the best tool we have for building a better future, offering sustainable development for all.
The Cooperatives for Sustainable Development conference will take place on 1st July at Donostia-San Sebastián City Hall (Spain) with online broadcasts that can be followed in Spanish, English and Basque. The dynamic format of the event will showcase experiences and testimonies from across the world, both in-person and online. There will be six round tables in which representatives from various countries and organisations will discuss the relationship between the cooperative movement and each of the Sustainable Development Goals, from 1-17.
The international conference in Donostia-San Sebastián on 1st July will kick-start and coincide with other major events on the world stage. Spain's presidency of the European Union begins on 1st July, whilst the first stage of the Tour de France kicks off in Bilbao, arriving in Donostia-San Sebastián on 2nd July. This year is also key to the United Nations 2030 Agenda. In September, the UN is holding a summit to review the 17 SDGs, with a high-level political focus on transformative actions that can accelerate achieving the goals.
Cooperativism: a prototype for sustainable development
As we reach the halfway point of the 2030 Agenda efforts must be ramped up, and this can only be done through increased cooperation. Cooperatives have this model ready to go, with a proven 200-year trajectory. The cooperative movement is a prototype for sustainable development, it is in our DNA. The term has been included in our cooperative principles (the seventh) since 1995; 20 years before the UN introduced the 2030 Agenda in 2015. The time for cooperatives is now. It's time to shout it loud and clear.
The Cooperatives for Sustainable Development conference has been organised jointly with the Higher Council of Cooperatives of the Basque Country and our members Konfekoop and Coceta, and is part of the programme of events planned for the Donostia-San Sebastián Social Economy Capital of Spain 2023.