24 Jun 2020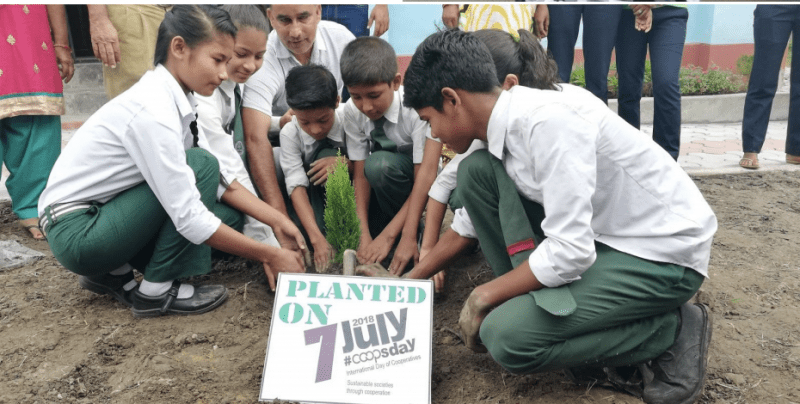 Young co-operators across the world will celebrate the International Day of Co-operatives by planting trees, through an initiative led by the ICA Asia-Pacific Youth Network​: Go Green 3.0.
​The Go Green campaign is now in its third year and builds on previous initiatives carried out in 2018 and 2019. ​In 2019, the campaign was expanded to include youth from Africa. This year, Go Green 3.0 is being celebrated as World Goes Green, with the Youth Committees of ICA-Africa and ICA-Americas. 
Due to the Covid-19 crisis, this year the network is encouraging participants to plant trees at home or their workplace.​ Each region is organising activities in accordance with local requirements. The Network will host a​n international webinar on International Youth Cooperatives for Climate Action on 7 July​, 7pm Pakistan Standard Time. The webinar brings together youth speakers from Africa, the Americas, Asia-Pacific, and Europe, who will share their experiences and best case studies to enhance awareness on climate action, and increase youth engagement with cooperatives and the SDGs. 
Ahsan Ali Thakur, who chairs the ICA Asia & Pacific Committee on Youth Cooperation​ (ICYC), says the campaign is driven by a desire to show the contribution of cooperatives to meeting the SDGs. "The campaign is based on two values, self-help and solidarity," he adds.
Go Green 3.0 will run from 1-21 July, 2020 (Asia-Pacific, July 1-7; Africa, July Asia 8-14; Americas, July 15-21). 
Planting trees is crucial to tackling climate change, given that between 3.5 and 7 billion trees are cut down each year. Young trees absorb CO2 at a rate of 6 kg per tree each year.
Cooperative Housing International is partnering with the ICA Asia & Pacific Committee on Youth Cooperation on the Go Green Campaign.
"This campaign connects youth with cooperative societies and how they can be a sustainable model for their community. We support this campaign to empower youth in this positive and concrete action," said Julie LaPalme-Secretary-General, Cooperative Housing International.
Learn more about the campaign here.
The ICYC has launched a toolkit with instructions on how to use the Go Green Campaign 3.0 banner for social media purposes. For more information and to download the toolkit, please visit their website. 
Photo: children planting trees as part of the Go Green campaign.