The International Cooperative Alliance was founded in London, England on 19 August 1895 during the 1st Cooperative Congress. In attendance were delegates from cooperatives from Argentina, Australia, Belgium, England, Denmark, France, Germany, Holland, India, Italy, Switzerland, Serbia, and the USA. Representatives established the International Cooperative Alliance's aims to provide information, define and defend the Cooperative Principles and develop international trade. 
An interactive timeline on ICA milestones
The Rochdale Pioneers
The earliest record of a cooperative comes from Fenwick, Scotland where, in March 14, 1761, in a barely furnished cottage local weavers manhandled a sack of oatmeal into John Walker's whitewashed front room and began selling the contents at a discount, forming the Fenwick Weavers' Society. 
In 1844 a group of 28 artisans working in the cotton mills in the town of Rochdale, in the north of England established the first modern cooperative business, the Rochdale Equitable Pioneers Society, also known as the Rochdale Pioneers. They are regarded as the prototype of the modern cooperative society and founders of the cooperative movement. The weavers in these cotton mills in Rochdale faced miserable working conditions and low wages, and they could not afford the high prices of food and household goods. They decided that by pooling their scarce resources and working together they could access basic goods at a lower price. Initially, there were only four items for sale: flour, oatmeal, sugar, and butter.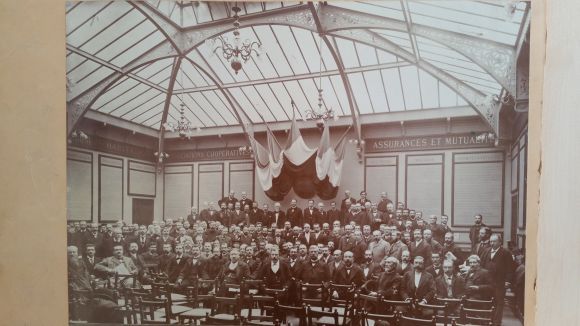 The Pioneers decided it was time shoppers were treated with honesty, openness, and respect, that they should be able to share in the profits that their custom contributed to, and that they should have a democratic right to have a say in the business. Every customer of the shop became a member and so had a true stake in the business. At first, the cooperative was open for only two nights a week, but within three months, the business had grown so much that it was open five days a week.
An independently formulated cooperative model was developed in Germany by Friedrich Wilhelm Raiffeisen and Franz Hermann Schultz-Delitsch. Raiffeisen and Schultz-Delitsch originally formed credit unions in 1862. Since then the model has grown into other sectors and inspired the growth of financial cooperatives across the world.