08 Mar 2017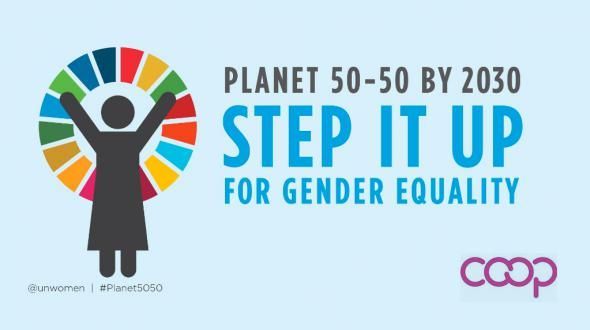 International Women's Day 2017
Statement of the International Co-operative Alliance 
"Women in a changing labor world: Towards a 50-50 planet in 2030 "
The world of labor is a crucial scenario for the development of women and men in which wide gaps and gender disparities persist.  Women are still given job opportunities, and are treated and evaluated differently in the workplace, around the world. 
Today the international organizations that advocate this issue continue to show us truly worrying figures. Women account for less than 40 percent of the total employment in the world.  The chances for women to participate in the labor market remains almost 27 percent points lower than that for men.  Women are more likely to be unemployed, with unemployment rates of 6.2 percent compared to 5.5 percent for men.  The wage gap is estimated at 23 percent which means that women earn 77 percent of what men earn.
We are still facing a pending issue. Poverty continues to affect women more, they have a greater overall workload, there is a gap in labor participation, higher unemployment rates and a greater insertion in the informal sector of the economy.   Women have less access to social security and are overrepresented in the sectors of lower productivity, status and income.
The quality of women's jobs remains a challenge, and it is the same for formal as for informal employment. Although half the working women in the world earn a salary this does not guarantee them a better-quality job.  In fact, it is known that 40 percent of formal women workers do not contribute to social security systems in their countries.
A major concern of the International Co-operative Alliance, ICA, refers to the areas of discrimination that are new or not visible yet, such as the "feminization" of women migrating or the discrimination based on immigration status including harassment, exploitation, denial of social security, and very low salaries.
Other areas of special attention are the low participation of women in collective bargain agreements. The increasing unemployment rate among young women and the discrimination based on sexual orientation leads to harassment at work and wage discrepancies ranging from 3 to 30 percent.  Also, it is important to look at the number of retired women who receive a pension which is 10.6 percent points lower than that of men demonstrating that almost 65 percent of the people over the age of retirement not receiving a regular pension are women.
In a labor market where an autonomous personnel is continuously predominant, the geographical mobility, input value, computer networks, telecommuting, social networks, and new business models that challenge traditional structures and entrepreneurship, female empowerment and access to suitable education for women and girls is crucial. We must help them prepare for a new world, ensuring that innovations, far from creating new gaps and reasons for discrimination are new paths for a different way of incorporating women in the employment industry. This all becomes a challenge when we take the 5 to 7 million job eradication expected to decline by 2020.
 Another phenomenon that is rooted in the basis of several types of discrimination are gender stereotypes and society's expectations regarding the roles that women must assume. From the ICA we consider this a matter of great concern, since it overlaps the models of aging, social organization and cultural patterns, in a society that diminishes ​​what is "feminine" from all aspects viewed.
Far from a romantic vision, we collaboratively bet on a society that values indicators of well-being and happiness, more than the economic and financial. Therefore, in the basis of all actions we must maintain and advocate the restoration of work and family life.
 A pre-requisite for these purposes is always education, the principle of principles in a cooperative philosophy. Today, 62 million girls all over the world, between the ages of 5 and 15 do not attend school, or are lagging in academic progress of their upper secondary educations.
We have been warned from other international agencies that if these current trends prevail it will take more than 70 years to completely fill gender wage inequality, and facing this does not only depend on better levels of economic growth in these countries. It is imperative that we transform favorable working and social environments for women to achieve a 50-50 planet by 2030, and a precondition for meeting the sustainable developmental agenda.
In commemoration of the International Women's Day, from the International Cooperative Alliance, we extend the call to the world's cooperatives strengths with our commitment to the daily Sustainable Development Goals, and to maintain our adherence to cooperative principles and values ​​as powerful strategies to address persistent gender inequalities in the work industry. Collaboration between cooperatives in support of these purposes is vital, as well as a strategic alliance with governments and other economic sectors of development.
María Eugenia Pérez Zea
Chairperson of the Alliance's Gender Equality Committee