15 Nov 2017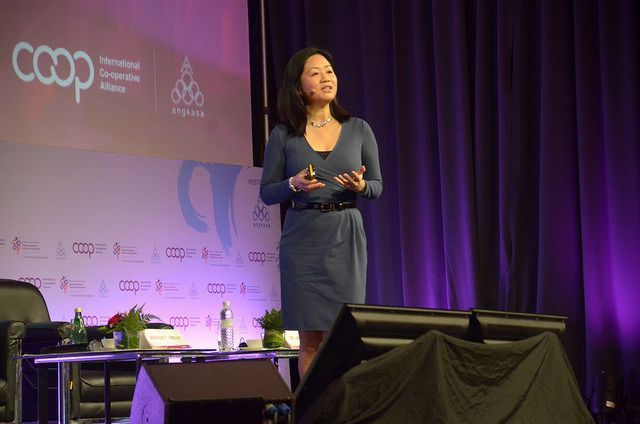 Automation and globalisation are putting pressure on the global economy despite growth in emerging countries – but the co-op model offers answers, argues economist Linda Yueh.
In her keynote speech, Prof Yueh said US had suffered 40 years of wage stagnation because of automation.
The answer, she said is to rebalance economies from manufacturing to services – which has already paid off in China. And co-ops are well-suited to this rebalancing process.
"The co-op model has advantages in terms of innovation, because innovation comes from people, and the investment of co-ops is in their members and customers," she told delegates.
"This co-operative model has been around a long time and fits this era very well - how do you come up with ideas for what you need to deliver? A lot of companies struggle because they are out of touch."
She added: "We need to think a lot more about business rooted in civil society –  collectives, co-ops, who know their communities, which can promote sustainable growth."
Prof Yueh called for "bottom-up" models of economic development, adding: "We need reorientation in thinking about growth, to move from thinking about the speed of growth to the quality of growth."
This suits the co-op model well, she said, meaning they have a role to play in meeting the UN Goals for Sustainable Development.
"There are 767million poor people in the world," she said. "New approaches need to be brought to end poverty, especially in Africa and South Asia, and this is a role co-ops can play."