25 Sep 2020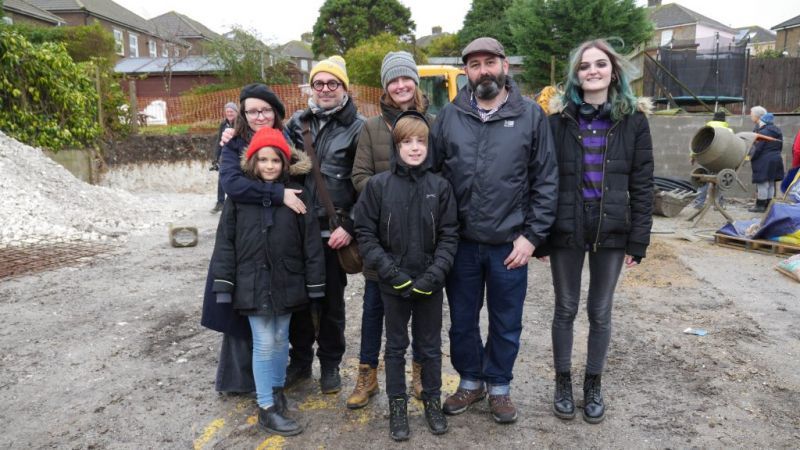 After three years of trying to secure affordable housing, Martyn Holmes and his partner Agata Bogacka, who live in Brighton, UK, with their children, co-founded Bunker, a housing cooperative, in 2014.
This idea developed as they chatted with their neighbours, who had similar problems finding and renting  housing  that was not overpriced and cramped. Both Mr Holmes and his next-door neighbour were self-employed in the building trade. 
"If we hadn't started Bunker we would be priced out," said Mr Holmes. 
Housing in Brighton costs 14 times the average yearly salary and monthly rents are half a tenant's income.
Bunker is building 15 homes in four phases. Two houses were completed in April 2020.
The projects are all being built on infill local authority land. The scheme obtained planning permission in 2017, with the lease signed in October 2018.
The members thought a hands-on approach would help to save costs and provide greater control to members. 
"Our initial idea was for Walter Segal style self-build homes. It quickly became clear that this was not the way forward. As the project evolved we wanted to be flexible but remain actively involved and keep that control and agency – it was important that innovative building techniques and eco aspects were not value engineered out by other people and that any changes and choices were made by us with our architect," said Agata Bogacka. "We had the will to do it, some of us had been working in the local construction industry and we had links with local and trusted builders. Their expertise and knowledge helped to give us oversight of the whole project."
Mr Holmes explained why consulting with the local community was important for the co-op: "When we went out door knocking, we had training from our community organiser. We had lots of good conversations with people – we actively listened to people's feelings, thoughts and concerns about the area they live in and the site we wanted to build on. People were generally supportive. Previously we had been under the assumption that we were the good guys, we discovered that for a small minority this wasn't the case – which was a learning process for us." 
Bunker members, who are mostly self-employed people in Brighton and Hove, hope to start work on a second site in the next 12 months in order to expand their project and house more of their members, all of whom are currently living in private rented accommodation.