25 Sep 2020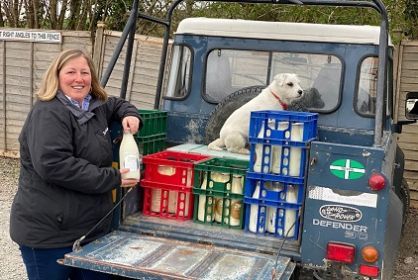 The COVID-19 pandemic is not over, and communities around the world continue to suffer. Cooperative and mutual insurers have stepped in to help non-profit organisations in their communities to stay afloat, in line with Cooperative Principle #7: Concern for Community. 
ECCLESIASTICAL: Helping charities help communities
UK-based Ecclesiastical, a member of the International Cooperative and Mutual Insurance Federation (ICMIF), developed a fundraising hub that provides resources to help charities raise funds to overcome the challenges posed by COVID-19.  
Angus Roy, charity director at Ecclesiastical Insurance, said, "During these unprecedented times we have seen the charity sector stepping up to support those most in need – meeting increased demand while losing much of their regular income."
"We've developed the charity fundraising hub to provide guidance and advice to charities as they look to the future, and help them to be more resilient during this very challenging period and beyond."
CORNISH MUTUAL: Volunteering during the lockdown
Similarly, ICMIF member Cornish Mutual has pledged to provide communities across the South West of England with 1,000 hours of volunteering during 2020. Last year its staff volunteered a total of 700 hours, helping charities and community groups.
The insurer is encouraging employees working from home to  come forward with ideas to make a difference in their communities. Many have already been shopping for neighbours, delivering food or medical prescriptions to vulnerable or elderly people, as well as joining the National Health Service (NHS) Volunteer Responders.
Trudy Herniman, a member of the insurer's field team, organised a milk delivery for her Devon village, working with a local farmer and Cornish Mutual Member. Likewise, Hana Holden from the IT support team baked 130 cakes for key workers while Jo Hawkins and her daughter Lily volunteers with Camborne Food Bank and delivers prescriptions to those having to self-isolate.
"We are committed to supporting the communities in which we work and live and have a strong tradition of throwing ourselves into fundraising, charity events and volunteering," Katie Harland, HR Leader at Cornish Mutual said.
"We knew that our teams didn't want to stop all our volunteer work because of the current restrictions. With everyone working remotely, we wanted to give people the opportunity to use a portion of their work time to help out in their local community.
"This is our most ambitious volunteering project yet. One thousand volunteer hours would amount to an average of 10 hours per team member. It's a fantastic opportunity for us to make a difference," she added.
AVBOB: Fighting gender-based violence during the lockdown
Meanwhile, in South Africa, ICMIF member AVBOB has marked this year's Mandela Month commemorations by joining the fight against gender-based violence (GBV). The insurer made donations to several non-government organisations (NGOs) across the country.
During the first week of the COVID-19 lockdown, over 87,000 cases of GBV were reported to police in South Africa. Since then, there have been many reports that indicate a surge in GBV cases.
CEO Carl van der Riet said: "As we mark the end of another Mandela Month, it is fitting to start with Madiba's words on the issue that we've all taken a stand against. He said that 'our freedom remains incomplete, as long as we are denied our security by those who commit violence against our women and children.'
"Looking at the state of our nation today, his words still ring painfully true. Adults and children are trapped at home with abusive partners or parents, and as the financial stresses of unemployment exacerbate the situation even further, it's up to all of us to take a stand and to help end the scourge of violence against the most vulnerable members of our society."
Van der Riet adds that AVBOB's primary objective is to show its stakeholders that it is not only creating awareness, but that it is taking definitive action. "Furthermore, as a mutual, AVBOB supports people, communities and initiatives aimed at improving the lives of those around us. This bears testament that AVBOB remains true to its brand promise, We're here for you."
THRIVENT: Supporting people and non-profits
In the USA, ICMIF member Thrivent - with help from more than 46,000 of its members - raised and generated nearly US$13m of financial support for  more than 17,000 non-profit organisations and churches around the country. 
The Thrivent Foundation is donating an additional US$150,000 to three relief funds in the communities where Thrivent's corporate offices are located – to support people and non-profits impacted by Covid-19.
"As always, but especially now, we are committed to serving our members, clients and their families," Terry Rasmussen, Thrivent President and CEO, said in a statement.
"Rest assured, Thrivent is a strong and stable diversified financial services organisation that is well-positioned to not only weather but thrive during this storm. Our strong capital and surplus positions will allow us to deliver on our past and future commitments to our clients."
ICMIF has published a series of stories on how mutual and cooperative insurers are supporting their local groups and communities – these are available on its website.
Photo: Trudy Herniman from Cornish Mutual organised a milk delivery for her Devon village (c) Cornish Mutual