01 Jun 2023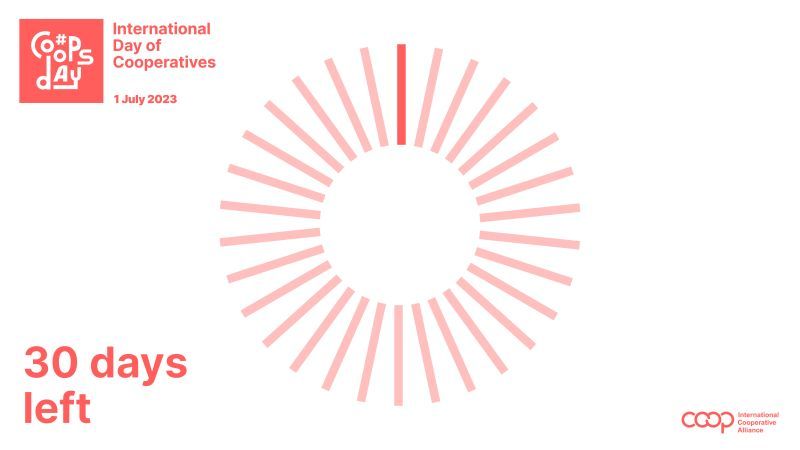 The International Day of Cooperatives (#CoopsDay) is just around the corner!
On 1 July, cooperatives from all around the world will celebrate the 101th International Day of Cooperatives. United by the slogan Cooperatives for sustainable development, we will show how the cooperative way of working, inspired by the cooperative values and principles, has the accomplishment of the Sustainable Development Goals (SDGs) as part of its DNA.
We have prepared a media pack filled with all you need to engage in the cooperative movement's biggest annual celebration: 
The 2023 logo in English, Spanish and French
The 2023 poster that you can use for your event or to take a picture that we will upload on the CoopsDay website
A communication toolkit to make sure #coops4sdgs will build buzz on social media!
and MUCH MORE!
You can find it all at www.coopsday.coop
>>> #CoopsDay MAP <<<
Write us to media@ica.coop sharing your story on how you are marking the day and how your cooperative is contributing to the SDGs!
Additional details can be found on the communication toolkit.
BONUS TRACK : Join the International Conference 'Cooperative for Sustainable development' that will be held online on 1st July from Donostia (Spain). Cooperators from all around the world will discuss the relationship between the cooperative movement and each of the Sustainable Development Goals, from the first to the 17th. The format will be very dynamic and can be followed online in English, Spanish and Basque.
This event is organised by the Higher Council of Cooperatives of the Basque Country together with Konfekoop and COCETA, that, in such a special year in which Donostia has been named the Capital of the Social Economy in Spain, join the International Cooperative Alliance to mark #CoopsDay.
About #CoopsDay
Marked by cooperatives worldwide since 1923 and officially proclaimed by the United Nations General Assembly on the centenary of the ICA in 1995, the International Day of Cooperatives is celebrated annually on the first Saturday of July.
The aim of #CoopsDay is to increase awareness of cooperatives and promote the movement's ideas of international solidarity, economic efficiency, equality, and world peace. Since 1995, the ICA and the United Nations through the Committee for the Promotion and Advancement of Cooperatives (COPAC) have jointly set the theme for the celebration of #CoopsDay.