23 Nov 2020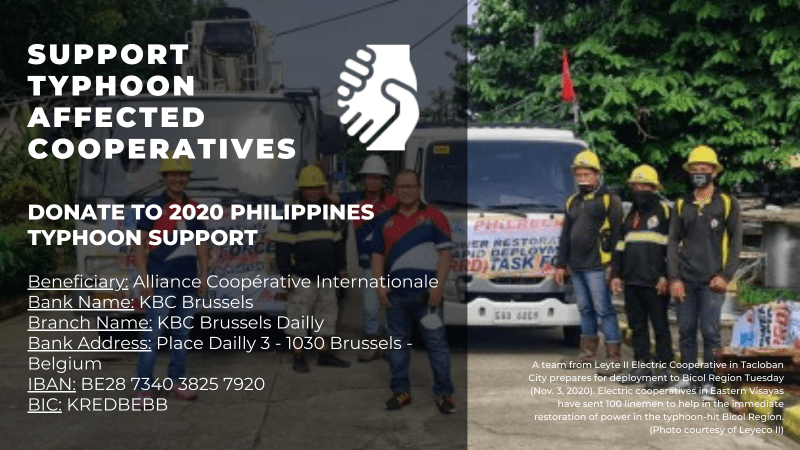 With the Philippines recently struck by two devastating typhoons, the International Cooperative Alliance Asia-Pacific is raising funds to support the country's movement.
The season's strongest storm, Typhoon Goni (Rolly) hammered the Philippines on 31 October. Two weeks later Typhoon Vamco also devastated the state. The United Nations Office for the Coordination of Humanitarian Affairs reports that Typhoon Vamco has affected over three million people. Over 70 people are known to have lost their lives due to Vamco while 283,656 people are in 2,205 evacuation centres. Similarly, at least 25 people in the areas affected by Typhoon Goni have died, with over 390 injured and 83,000 displaced.
The Philippines Cooperative Center confirmed that communities across the country had been severely affected by the two typhoons.
"Some houses were washed away and many vehicles got turned upside down by the rushing muddy waters," it said. "Even posh subdivisions with high concrete walls were not spared, with some of those walls coming down. Lifetime savings on furniture and appliances also got figuratively washed away with the floodwaters. Following the onslaught of the floods, many houses were left bare, with only thick mud left as a dismal reminder of the catastrophe." 
Those wishing to support Filipino cooperatives can send donations to the 2020 Philippines Typhoon Support and direct them to the ICA Global Bank account with the reference "Donation Philippines". 
Beneficiary:

Bank Name:

Branch Name:

Bank Address:

IBAN:

BIC:

Alliance Coopérative Internationale

KBC Brussels

KBC Brussels Dailly

Place Dailly 3 - 1030 Brussels - Belgium

BE28 7340 3825 7920

KREDBEBB