15 Dec 2022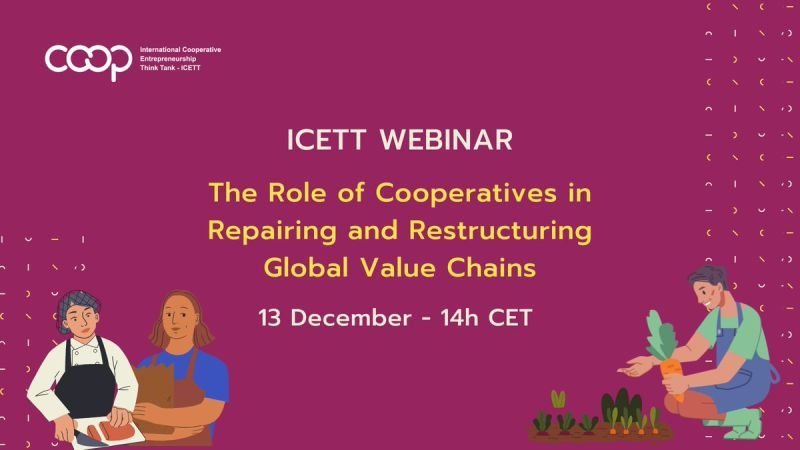 The ICA International Cooperative Entrepreneurship Think Tank (ICETT) held a webinar on 13 December to evaluate the role cooperatives could play in creating ethical and sustainable value chains.
The event, which marked the UN International Human Rights Day, explored some of the issues affecting global supply chains in recent years, from climate change to Covid-19 or the Russia-Ukraine conflict.
Some of these challenges were highlighted by ICETT, Chair Hans Groeneveld, who is also Director of International Cooperative Affairs at Rabobank, in The Netherlands. He said that ICETT aimed to explore how cooperatives can play a role in making global chains work better in the future while taking into account that steps have to be taken to increase sustainability.
Marjaana Saarikoski, Director Cooperative Affairs and Partnerships, S Group, Finland and Leader of the ICETT Working Group Human Rights in Value Chains, said sustainability is in the DNA of cooperatives. Her cooperative has set the goal for at least 65% of the food sold in its stores to be plant-based, with 80% to be produced in Finland.
Edgar Aguilar, Value Chains Expert at the International Labour Organisation (ILO), provided an overview of what is happening around the world in terms of global value chain disruptions, highlighting key lessons from ILO projects. These included establishing partnerships with new actors or providers that can help cooperatives adapt services to their members' living conditions. In collaboration with these service providers they can also put in place mechanisms to collect members' opinions on the service experience to then amend what they offer. He added that cooperative members could benefit from a certification scheme that covers the cost of those services.
Further examples of what cooperatives are already doing to address supply chain issues were provided by Todor Ivanov, Secretary General Euro Coop and Consumer Cooperatives Worldwide (CCW). He referred to the work of the Central England Co-operative in the UK, which launched a cooperative international trading development fund to support cooperatives in Malawi. The cooperative sources 13 products from Malawi, which are sold in its stores in the UK.
According to Mr Ivanov, consumer cooperatives are also taking the lead on sustainability and tackling food waste. For example, retailer Coop Sweden has signed a Sustainability Declaration through which they pledge to increase traceability. This means that Coop Sweden consumers can scan products in store and see how sustainable they are. Similarly, in Finland, S-Group enables consumers to calculate the CO2 emissions of their shopping basket. Meanwhile, Italian cooperatives ensure that 100% of their private label is traceable and 90% come from domestic suppliers. And in the UK the Co-op Group has replaced last-minute deals with free meals to tackle food waste.
Another area in which consumer cooperatives are excelling is data. Mr Ivanov said that cooperatives are the business operator that does not sell that data but uses, processes and gives it back to consumers to allow them to live more sustainable lifestyles.  
He warned that more cooperative-to-cooperative collaborations are needed in the sector, adding that other retailers are also keen to take the lead on such issues. "The competition is not sleeping," he said.
Jongseok Lee, Team Head of the International Cooperation Office at the National Agricultural Cooperative Federation Korea (NACF), offered an insight into the perspective of agri food cooperatives. NACF members had to deal with supply chain disruptions in recent years due to COVID-19 lockdowns and border closures, as well as climate change and more frequent natural disasters. In response NACF strengthened online distribution capabilities, enabled wholesale online produce exchanges, and helped members secure crop insurance, among others. 
Owen Skae, Agribusiness Senior Expert, Alliances for Action, International Trade Centre (ITC) also gave examples from countries in which his organisation is active. He said that cooperatives are more resilient when they have a governance framework, are democratic, have checks and balances and strong leadership. In Ghana the cooperatives ITC works with were able to adapt to recent supply chain challenges by diversifying crops to be less reliant on global value chains for fertilisers. He explained that cooperatives can foster an entrepreneurial mindset, and it becomes easier to diversify and add on other products too, because there is that willingness to be innovative. They are also more likely to secure investment due to their community focus, he added. He added that public private dialogues are also important since there are many actors in value chains and there has to be alignment between these.
In closing the webinar, Hans Groeneveld pointed out that the issue of global value chains was an on-going conversation for ICETT.
The full recording is available here.