26 Feb 2020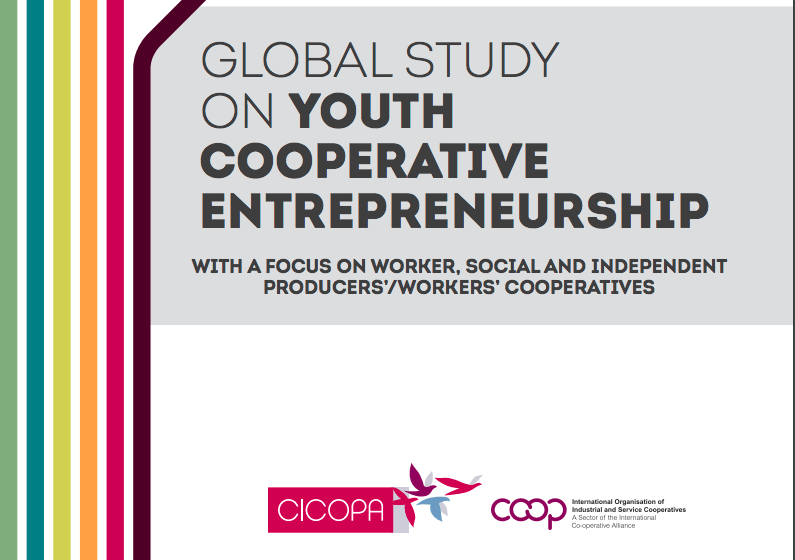 Young people are three times more likely than adults to be jobless. In fact, according to the ILO, around 21.8% of young people are neither in employment nor in education or training. More than 64 million young people are unemployed worldwide, and 145 million young workers are living in poverty.
Taking into account these trends, in 2018, CICOPA, the international organisation of industrial and service cooperatives, released a report examining the state of cooperative youth entrepreneurship.
The Global Study on Youth Cooperative Entrepreneurship formed part of its campaign to encourage young people to set up cooperatives. The campaign was themed - "We own it! The future of work is ours".
Based on desk research and on an online survey involving 64 youth cooperatives in the five continents, the study showed how young people can use cooperative models to improve their work and entrepreneurship conditions. 
The cooperatives taking part in the study were primarily active in the service sector, and are highly involved in activities requiring a certain degree of training, specialised knowledge and skills.
One of the study's findings was that respondents said they had chosen cooperatives due to a mix of value-based and pragmatic motivations. They were searching for meaningful work experience and had values-related aspirations but also wanted stable jobs, career opportunities and protection.
However, the report also warned against viewing cooperatives as a universal panacea. While the cooperative movement is increasingly looking to answer to youth needs, cooperatives can only to display their full potential if a favourable institutional environment surrounds them.
To explore this issue further, in 2019 another report by CECOP, the European confederation of industrial and service cooperatives, looked at the contributions made by cooperatives to issues related to non-standard employment, such as precariousness, low income, insufficient social security coverage and workers' isolation.
The European report featured case studies from countries including Belgium, Finland, France and Spain, where cooperatives are helping to tackle decent work deficits. Exploring the challenges faced by independent, freelance workers, the research showcases examples which show the way towards a better future of work in Europe, in close collaboration with trade unions, public authorities and other actors.
CECOP urged member states to adopt adequate legal frameworks for worker-owned cooperatives, and to create a worker member status based on standard employment. It also pointed out that non-standard workers should be guaranteed access to adequate social protection regardless of the type and duration of their employment relationship, while dependent self-employed persons should be reclassified as employees.
Both reports prove that cooperative responses to non-standard employment can allow the cooperative movement to embrace the future of work where flexibility and digitalisation would be at the service of workers, instead of destroying their protection and rights. However, these solutions should not relieve national governments of their responsibilities to find institutional solutions such as guaranteeing access to adequate social protection to all workers.
Related Events: