Kuala Lumpur, Malaysia
14-17 November, 2017
This November, hundreds of cooperators converged on Kuala Lumpur for Cooperatives: Putting people at the centre of development, the ICA's 2017 Global Conference! Cooperators have been invited to choose from our unique and diverse programme offerings and around 1000 came together in #CoopConference17. The conference experience aligned professional goals, knowledge, practical tools, skills, new contacts, business leads, and inspiration.
Conference Theme - Putting People at the Centre of Development
Our world carries great wealth, of which the resourcefulness of people is the most important. Serving the needs of people, we cooperatives are a growing and sustainable form of enterprise which put people at the centre of growth. This is why the ICA has chosen the theme of its 2017 conference to be "Cooperatives: Putting People at the Centre of Development".
New Board and President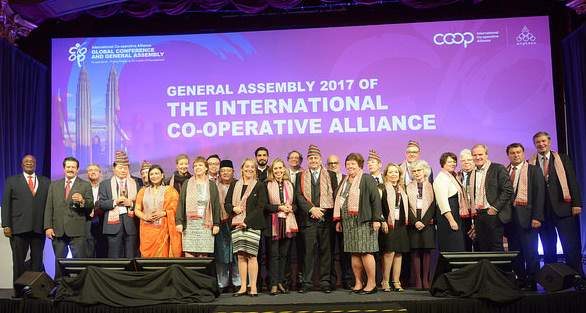 Mr. Ariel Guarco, from Argentina, has been elected the Alliance's President on the 17th of November. Click here for the press release and here for an interview with Mr. Guarco.
A new board has also been elected, using for the first time, an electronic voting system. Click here for the full list of our board of directors. The results of the elections including the number of votes received can be consulted here
Did you miss it? Check some of the outcomes:
Speakers' Presentations:
Presentations #coopconference17: 15 November
Presentations #coopconference17: 16 November
Special Newsletters compiling the highlights of the conference:
Day 1 > http://bit.ly/2hu3gmk
Day 2 > http://bit.ly/2hDAKCs
Day 3 > http://bit.ly/2jyJUks
World Cooperative Monitor
The new World Cooperative Monitor 2017 was released with the new ranking of the world's 300 largest cooperatives. Click here for the press release.
Publications
Several publications have been released, including: A matter of principles - Cooperatives in development. Check our publications section for the full list!
Photos
Check our Flickr album for the best moments of #CoopConference17.
Follow @coops4dev on Instagram or click here to see the album on Facebook.
Facebook Live emissions:
See the highlights of each day and listen to interviews with different cooperators.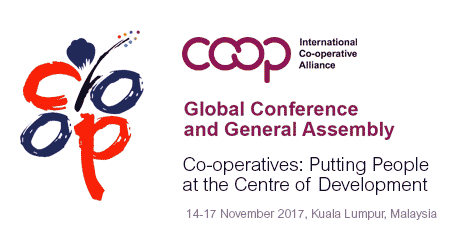 Contact information