07 May 2018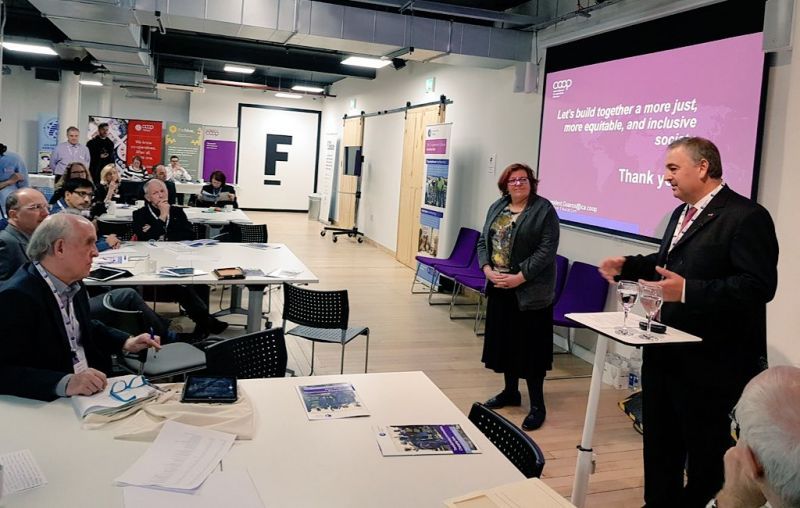 As the world of work is faced with challenges posed by new technology, cooperatives are examining the impact this could have on the sector.
The changing nature of cooperative learning and research was a key theme of the Co-operative College's annual conference in Manchester on 1-2 May. The two-day event featured the President of the International Co-operative Alliance, Ariel Guarco, and Director-General, Bruno Roelants. They examined how the movement might use the opportunities brought by new technology while staying faithful to its values and principles.
Mr Guarco praised the work done by the Co-operative College in providing support and training to co-operatives, creating a link between the co-op movement and the academic world.
"A cooperative education that responds to the needs and objectives of our enterprises is crucial," he said.
New technologies and platforms can make it more difficult to build a shared identity for members of co-ops, but they can also increase transparency and direct management, he added.
"Our cooperative platforms cannot simply minimize transaction costs between an individual producer and an individual consumer. The platform must guarantee that the working conditions of that producer are those that he or she has decided in a participatory manner with the group of members of the network," he said.
Mr Guarco gave the example of Belgian cooperative SMART, which brings together 100,000 self-employed workers via an online platform. Through the cooperative, they get access to training and health and social protection.
"A 'cooperative Uber' should not be only an Uber that distributes its profits among the associated drivers. It is a tool where drivers can agree on working conditions, and that this work is worthy, desired and collectively built, valued in the network," he said.
Mr Guarco also looked at the potential of developing cooperatively run cloud technology. In addition to exploring the option of owning networks and servers, co-ops should look at using free software, he said.
In his keynote speech, Mr Roelants argued that cooperative learning required practical experience. He believed that teaching cooperation must start at an early age and co-operative pedagogy should be used by the movement.
"When we talk about the cooperative model, we should think about learning by co-ops on cooperatives, through cooperative experience," he said.
Mr Roelants thinks cooperatives can make a difference in activities and processes that are not foreseeable and where empathy plays a part. These would include social services, health services and human interaction based activities.
Mr Roelants said cooperative research and education would remain an important aspect of the International Cooperative Alliance's strategy. He added that the Alliance planed to continue to favour links between cooperative learning and research initiatives across the world and promote educational and research policies working with the UN and other agencies.